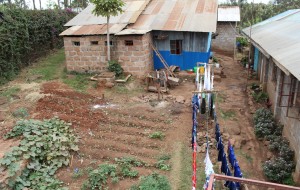 Young Life's Children's Home in Ruiru: Water, Sanitation and Irrigation
A local NGO "Young Life Africa" currently runs an orphanage in Kenya, The Young Life Children's Home, located in Ruiri, approximately 35km from Nairobi. The home provides shelter for young boys between five and eighteen years, both orphans and former street boys, some of whom are HIV-infected. At the home, the children contribute to growing vegetables and maize, and fetch water from the nearby Ruiri river. The living and health conditions amongst the boys indicate a serious need for improvement of hygiene, and of a healthy, steady and balanced food supply at the home.
This project establishes a mechanized and permanent water supply, which provides clean and safe water for the home. The project includes a low-cost irrigation system for the vegetable garden, and ensures that crop production is not contaminated by health-hazardous watering. Improved irrigation reduces the time the children need to spend on watering, and gives them more sparetime to be children. An irrigation system further creates the possibility to extend and develop the vegetable garden to become a training school for agriculture, increasing the boys' opportunities to focus on education and training. 
The project significantly improves the living and health conditions at the orphanage by increasing the focus on sanitation and hygiene, and the expansion of the vegetable garden to become a field for education provides the children at the home with better opportunities for their future.
The project contributes to zero hunger, quality education and clean water and sanitation in compliance with the current UN Sustainable Development Goals.