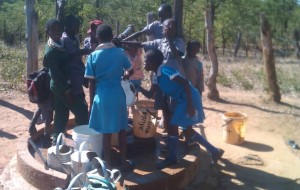 Improved Food Security in Lupane
This project takes place in the Lupane District, in Matabeleland, Zimbabwe. The aim of the project is to improve food security for 850 learners in 4 schools. In addition, the project will establish 4 school managed keyhole gardens which will act as an exit point to ensure sustainable resilience of the feeding project.
The selected schools are:
1. Mzola 27 Primary School
2. Manganganga Primary School
3. Phumakanye Primary School
4. Sitshongo Primary School
Project Objectives:
·   To improve food security for the children in Matabeleland North Province
·  To increase awareness of school nutrition and garden management among school authorities and community members in 4 Matabeleland North Province schools. This includes: 40 members and 40 School Development Committee members trained in keyhole garden management and importance of school nutrition.
The project contributes to Good Health and Well-Being (SDG # 3), Peace Justice and Strong Institutions (SDG # 16) and Partnership (SDG # 17) in accordance with the current UN Sustainable Development Goals.
Specifications
Project No.: 136
Categories: Zimbabwe , Southern Africa , Food Security
Budget: 499.940
Project Manager: Charlotte Schuldt
Partner Organization: Christian Youth Volunteers Association Trust (CYVAT), Care4People (C4P), Danish Emergency Relief Fund (DERF)