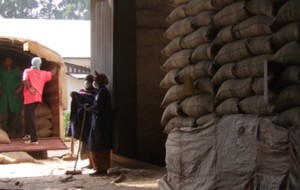 Grain Storage. Cold Rooms and Micro Silos
The project's main objective is to improve quality and yield of maize grain.  CIMMYT's existing cooling storage facilities at offset are in terrible shape with little insulation and leakages, which exposes the breeder seeds at risk for failure. On top of that poor farmers are very vulnerable to weather conditions during harvest; if there is lots of rain during harvest season, they have great difficulties drying the maize, and grain borers consume parts of the yield.

On average 30% of the yield is lost. Moreover, during rainy seasons the farmers could be forced to sell the maize immediately after harvest to avoid losing the yield due to mold, where the prices are down approximately 50 percent. The Gates Foundation has asked EWB-Denmark to upgrade the existing grain storage facilities and develop a best practice guide. The project also includes a demonstration project for improved micro silos.
EWB DK is to analyze and optimize an existing micro silo design. The silo protects the harvest and solves the problem of grain borers, when drying the maize,it can be marketed at a point in time where the prize is higher. 
The project contributes to zero hunger in compliance with the current UN Sustainable Development Goals.
Specifications
Project No.: 050
Categories: East Africa, Food Security, Kenya
Budget: 920.000 DKK
Project Manager: Jørgen Nielsen
Partner Organization: Cimmyt Kenya