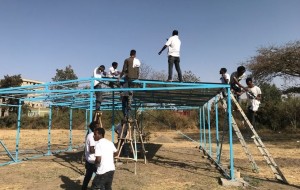 Solar Energy in SOS Children's Village in Hawassa
When the national electricity grid is out, a 24-year-old standby generator that can break down at any time supplies the SOS Children's Village in Hawassa with power. The frequent power outages make energy costs very high, and make it difficult for the 150 children of the village to study in the evening, to use IT, and to secure the compound when the sun has set. EWB-DK will provide a solar panel energy system in the village. Combined with lamps and rechargeable batteries, the houses can have light at nighttime and the electricity costs will go down. This means that the 213 children living in the Village in Hawassa will have better opportunities to study after sunset. 
After a fact-finding mission in January 2017, the project plan was formulated. The project includes training sessions on solar panel energy systems at a local vocational training centre for youth. Considering that youth from the SOS Children's Village obtain an education at this vocational training centre, this was the ideal location for EWB-DK to provide transfer of knowledge and training in green technology. Training and installation of the energy system took place early 2018.
The project contributes to the UN Sustainable Development Goals regarding quality education (#4), affordable and clean energy (#7) and partnerships for the goals (#17).