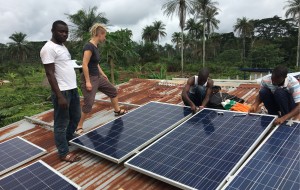 Provision Of Solar Energy for Rural Health Clinics
The project is a spin-off from a former energy project "Solar Energy Pilot Project" implemented in 2014-2016, where the installation of a PV system at the health clinic in Vaahun was finalised. The clinic however needed additional assistance to upgrade the facilities.  This project forms part of a long-term engagement for EWB-DK in the project area (since 2009).
In Sierra Leone, infant mortality is currently 94 out of 1.000 live births. For comparison, in Denmark infant mortality is 3 out of 1.000 live births. In the communities of Vaahun, Talia and Komende, the clinics serve pregnant and breastfeeding women and children up to the age of 5 whereas the Hangha Health Centre is providing general health outreach. At these rural health clinics, women often give birth in the dark, as there is no light during the night-time in the clinic. Additionally, there are no cooling facilities for medicine, or electricity for medical equipment.
The project addresses the lack of electricity, and improves public health services via installing solar powered energy (PV) systems and associated installations at four health clinics. These clinics are located in the Vaahun, Talia, Komende, and Hangha communities, all rural and isolated communities in the Kenema District. The power supply system provides enough energy to meet the needs for light, water heating and refrigeration. The PV system for the health clinics is dimensioned to 2400W/220V AC for nighttime operation on batteries, but will in the daytime be able to provide approx. 3500W/220V AC. The communities are situated in EWB-SL/EWB-DK´s area of operation, creating opportunities for inclusion in terms of cooperation with the authorities and monitoring within the scope of the general EWB-DK program activities in the district.
The project improves public health services for a total of 10,100 beneficiaries.
The project contributes to the UN Sustainable Development Goals regarding good health and well-being (#3), affordable and clean energy (#7) and partnerships for the goals (#17).