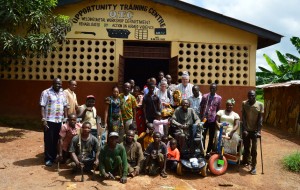 Economic and social rights for people living with disability – strategic capacity building
The Opportunity Training Centre (OTC) is located in the Kenema district in Sierra Leone, and provides disabled youth in the area with education and life skills to create a livelihood. The centre aims to be a stronger advocate for the rights of people with disability, and EWB-DK wishes to support and assist the OTC in achieving this.
In this project, strategic capacity building will be conducted, to strengthen the OTC's organisational and administrative capacities and strengthen their foundation for future intensified advocacy and development efforts. 
Specifications
Project No.: 128
Categories: Southern Africa , Capacity Building, Sierra Leone
Budget: 217.500
Project Manager: Erland Stubkjaer Christensen
Partner Organization: Opportunity Training Centre (OTC), Dansk Handicap Forbund