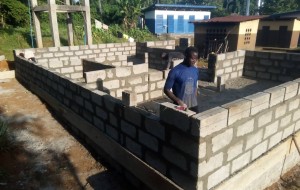 Upgrading of maternal & child health posts in rural Kenema, Sierra Leone
This project will renovate rural health clinics in the communities of Talia, Vaahun and Komende in the Kenema district in Sierra Leone, and thereby support the local population in becoming more resilient regarding health related issues.
Detailed planning based on previous on-site assessment has identified the need for upgrading the current poor state of the clinic structures, which will improve hygienic standards for patients and staff.
Renovation and upgrading of these clinics will significantly improve health care provision, which especially will benefit pregnant or breastfeeding woman and children under 5 years of age.
The project contributes to the UN Sustainable Development Goals regarding Clean water and sanitation (#6), reduced inequalities (#10) and partnerships for the goals (#17).