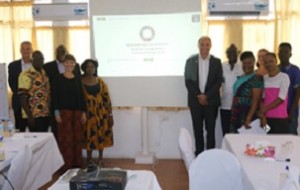 North/South Engineering for the SDGs
The fulfilment of the Sustainable Development Goals requires close and long-term cooperation between developed countries and developing countries.
The Global Goals cannot be met only with aid and investments from rich countries, it requires a technical humanitarian assistance, where trained professionals travel to underdeveloped areas and assist with professional knowledge.
The main objective of this intervention is sharing knowledge on working with the SDGs, and to investigate whether there can be established a fruitful partnership between the Northern partners mentioned above, and the Sierra Leone Institute of Engineers (SLIE) in Sierra Leone for sector cooperation on engineering for the Global Goals. 
Specifications
Project No.: 114
Categories: West Africa, Capacity Building, Sierra Leone
Budget: 100.000
Project Manager: Dorte Lindegaard Madsen
Partner Organization: Association of Nordic Engineers, Sierra Leone Institution of Engineers, CISU