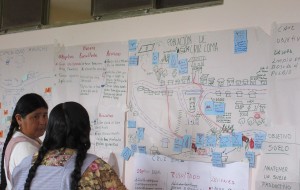 Community Environment Action Plans in Coroico
In the rural areas of Bolivia, contamination and other environmental problems and their effects are not systematically registered, solutions are non-existing and, if provided, are not based on a solid basis of knowledge. The population in general is not aware of the relationship between poor management of environmental resources and the direct effect on economic development and livelihood.
Therefore, the project has two main objectives: 1) A participant-oriented preparation of environmental action plans in existing civil society structures (two sub-centers) to promote sustainable use and conservation of natural resources in communities, and 2) to strengthen networks consisting of civil society, the municipality and other stakeholders with an interest in the environment.
The goal is that the network can act as a pervasive response to citizens' concerns and needs regarding the local authorities' priorities, approaches and initiatives regarding the environment.
The environmental action plans will be in four areas: waste, biodiversity, earth and water.
The project contributes to sustainable cities and communities and life on land in compliance with the current UN Sustainable Development Goals.