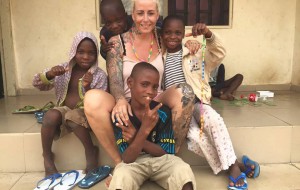 Children's Home, Akwa Ibom, Eket
Nigeria is the most populous African country, and has recently taken over from South Africa as the largest economy in Africa. Nigeria's economy is largely based on oil exports. The country is ranking as the 12th largest oil producing country in the world. The revenue from the oil has not benefitted the vast majority of the 180 million population, of which 62% are living in extreme poverty. In Nigeria, basic education still lacks for many, and superstition is widespread. People believe in witchcraft and young children are often accused of witchcraft and ousted from family and village, sometimes subjected to abuse and torture, and left to fend for themselves.
DINNoedhjaelp is running a Childrens Home in the state Akwa Ibom in the South Eastern part of Nigeria. The home takes care of children who have been accused of witchcraft. DINNoedhjaelp also works with advocacy, to try to teach the local societies not to accuse anyone of witchcraft. DINNoedhjaelp has constructed a new centre to replace their old rented facilities in Oyu (The capital of Akwa Ibom). The new centre is located in a more peaceful part of the country, near Eket, and creates a safer environment for the children. 
Additionally, rural areas often do not have access to electricity. Electricity production in Nigeria is approximately the same as in Denmark, but with a 30 times larger population. The electricity grid is unstable, and sometimes the power is gone for weeks. The problem is normally solved with electric generators running on petrol or diesel. This project supplies the centre in Eket with a solar power energy system and a battery facility, and assists with consultancy on project planning, and tender procedures during planning and implementation of the constructions. 
Solar power energy provides a cheaper and more sustainable supply of electricity to the Childrens Home in Eket.
The project contributes to the UN Sustainable Development Goal regarding affordable and clean energy (#7), reduced inequalities (#10) and partnerships for the goals (#17).