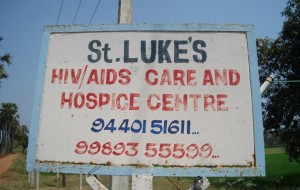 St. Lukes Hospital
Over 2.5 million Indians have HIV or AIDS. Most are poor people from low-caste who already live on the breadline. The Indian society expels the HIV infected and the state helps only to a very small extent. The HIV infected can often not afford medical care and medication. Therefore, an Indian physician Dr Ashok started his own small primitive non-profit 9 bedded hospital St. Lukes HIV / AIDS Care Center and Hospice, which provides a free and much needed assistance to poor HIV / AIDS infected in southeast India . Dr. Ashok works voluntarily and he pays the patients' medicine from his own pocket. The hospital building is worn and lacks even simple facilities. With financial support the building can be repaired and improved significantly with relatively simple means. The project aims at securing the future of HIV / AIDS hospital St. Lukes. It is divided in 4 phases.
1. Medical. To provide volunteer medical students to work in the hospital and relieve Dr. Ashok.
2. Technical. Improvement and renovation of the hospital complex.
3. Pharmaceutical. To provide medication through foundations, pharmaceutical companies and Medicine Without Borders.
4.Disclosure period and nutritional. Information in rural areas and a soup kitchen for the infected.
Volunteer students were sent to India, but the women experienced several culture clashes, and could not contribute to the project. In the second stage the roof was renovated so that it no longer took in water, and the water supply was improved. Finally Dr. Ashok chose to leave the hospital and the project was abandoned.
Specifications
Project No.: 009
Categories: Asia, Building and Construction, India
Budget: 60.000 DKK
Project Manager: Bent Børresen
Partner Organization: IMCCgruppen "HIV/AIDS i Indien"