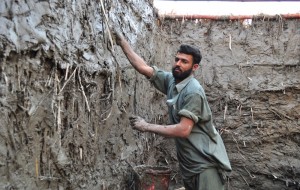 Shelter Project. Straw Houses. Sanitation
Between April and October 2012 local partner PAKSBAB and EWB-DK implemented a ten house project, funded and supervised by EWB-DK. Each unit contains a single room, an attached kitchen, a veranda and access to a detached bathroom. The technology used is tested on more than 30 prior homes constructed by PAKSBAB in Northern Pakistan and has as well been tested for seismic performance at the University of Reno.
The houses are constructed with a rock foundation, a gravel bag plinth and final cement plaster on thefoundation and plinth. The walls are compressed straw blocks, with self-carrying window and door bucks.
The walls are finished with a strong clay render applied in several layers. From beneath the foundation, up, and around the top ring beam a poly-net is reinforcing the structure against shear movements in the case of a strong earthquake. The roofs are constructed with a light timber frame, engineered and designed to usea minimum of timber as timber is very expensive in these regions. Finally a corrugated metal sheet roof is attached, for its durability and low cost solution.
The project has been implemented very successfully. Budget and timeline has been kept according to the initial agreements. All communication has been professional and clear. The experience of PAKSBAB is a very technically strong partner, with extensive local knowledge and understanding and a very professional organization, used to partner with "western" organizations.
The project contributes to clean water and sanitation in compliance with the current UN Sustainable Development Goals.