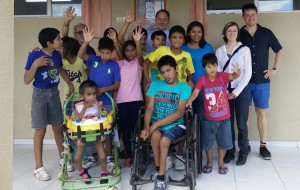 Hogar San Jose Disabled Children's Home
In Bolivia, the government does not support disabled children and poor disabled children have no way of getting proper treatment. The aim of this project is therefore to change this frame or context for the disabled children so that they might get better opportunities for developing and a higher quality of life. EWB-DK´s goal is to build a therapy building for the disabled orphans. In addition, the aim is, through this orphanage, to benefit disabled children of local poor residents in Santa Cruz and Warnes.
Experience has shown that timely exercise therapy is extremely important and gives children the opportunity to gain skills for a better life/better quality of life. This project will focus on the construction of a building for therapeutic treatment of children living with disability at the orphanage "Hogar San José" in Santa Cruz, Bolivia, since the existing buildings were not adequate for the children. The new building provides space and opportunity for training activity in a variety of dimensions, allowing individual and continuous treatment of children living with disability, which will develop their abilities to take care of themselves and give them a higher quality of life.
The project contributes to good health and well-being and reduced inequalities in compliance with the current UN Sustainable Development Goals.