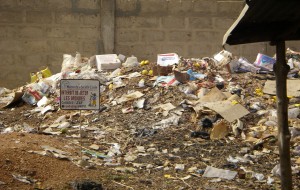 Solid Waste Management in Kétao
The city of Kétao in the small West African country Togo is drowning in waste. In addition to the 20.000 inhabitants, the city weekly hosts a regional market visited by up to 50.000 people. This produces a lot of waste that needs to be taken care of in a sustainable way. Traditionally, banana leaves were used for packaging, but now plastic is used. This has resulted in large amounts of plastic bags etc. in the streets and on the fields surrounding the city. It is estimated that 2.646 tons of waste are generated every year.
Currently, the city does not have any policy/plan for waste, so it is often dumped uncontrollably in surrounding fields. With this project, through mobilising and engaging civil society, EWB-DK aims to establish a solid waste management system, preventing waste from laying in the streets, and thereby decrease health risks and exposure to harmful bacteria. The system will include waste collection, environmentally sustainable waste disposal, and composting plants, as well as public awareness raising and capacity building. The goal is to make Kétao a pilot city regarding waste management in Togo. In 2017, we have focused on project planning with the local partner and in 2018, we will begin the implementation. The project activities include community involvement, campaigns, school outreach and the construction of a safe and controlled dumpsite outside the urban area.
The project contributes to the UN Sustainable Development Goals regarding good health and well-being (#3), sustainable cities and communities (#11), responsible consumption and production (#12), climate action (#13) and partnerships for the goals (#17).
Specifications
Project No.: 083
Categories: Environment, West Africa, Waste Management, Togo
Budget: 716.133 DKK
Project Manager: Keld Gormsen
Partner Organization: ADSA - Association de Dévéloppement Social et Agricole/ Social and Agricultural Development Association