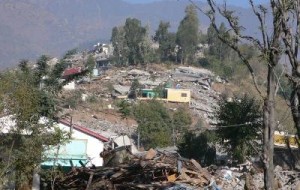 Mian Issa, Phase II; Community Disaster Preparedness
The project followed up the Community Based Disaster Risk Reduction project in the village of Mian Issa in Pakistan, with the idea to build on the good results obtained in the first project phase. The Mian Issa village area is an area prone to hazards such as earthquakes and flooding, which is why a Disaster Risk Reduction (DRR) project is of great value in this area.
The overall purpose was to further reduce the vulnerability of the people in the Mian Issa community, through both a further development of local capacity and through a number of structural mitigation and preparedness activities. This is implemeted through further developing local initiative; engagement, involvement and awareness that have been established during phase one.
The project focuses on continuance of previous activities, both within structural and non-structural terms and preparedness, but primarily focuses on the more strategic components of Disaster Risk Reduction.
The project contributes to sustainable cities and communities in compliance with the current UN Sustainable Development Goals.
Specifications
Project No.: 057
Categories: Middle East, Disaster Relief, Pakistan
Budget: 1.576.064 DKK
Project Manager: Peder Eliassen
Partner Organization: Karwan Development Foundation